Countries visited
As I mentioned in my About section, I have visited nearly 60 countries outside of Australia… and I'm not done yet!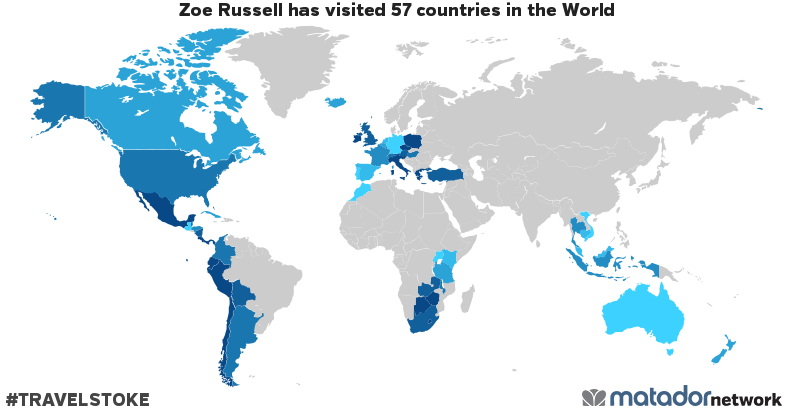 Zoe Russell has been to: Andorra, Argentina, Austria, Australia, Belgium, Bolivia, Bahamas, Botswana, Belize, Canada, Switzerland, Chile, Colombia, Costa Rica, Cuba, Czech Republic, Germany, Ecuador, Spain, France, United Kingdom, Greece, Guatemala, Honduras, Hungary, Indonesia, Ireland, Iceland, Italy, Kenya, Cambodia, Liechtenstein, Lesotho, Luxembourg, Morocco, Monaco, Malawi, Mexico, Malaysia, Nicaragua, Netherlands, New Zealand, Panama, Peru, Poland, Portugal, San Marino, Thailand, Turkey, Tanzania, Uganda, United States, Vatican, Vietnam, South Africa, Zambia, Zimbabwe.
Get your own travel map from Matador Network.
Here is the list and in a rough order as I visited them.
New Zealand
England
Scotland
Ireland
Wales
Netherlands
Belgium
Luxembourg
France
Germany
Poland
Hungary
Czech Republic
Austria
Switzerland
Lichtenstein
Monaco
Andorra
Spain
Portugal
Morocco
Italy
San Marino
Vatican
Greece
Turkey
United States of America
Bahamas
Indonesia
Thailand
Malaysia/Borneo
Argentina
Chile
Ecuador
Peru
Bolivia
Mexico
Belize
Guatemala
Cuba
Canada
Vietnam
Cambodia
Colombia
Panama
Costa Rica
Nicaragua
Honduras
Iceland
Kenya
Uganda
Tanzania
Malawi
Zambia
Botswana
Zimbabwe
South Africa
Lesotho
Comments